The ELMA group
The Energy Analytics & Markets group and its resources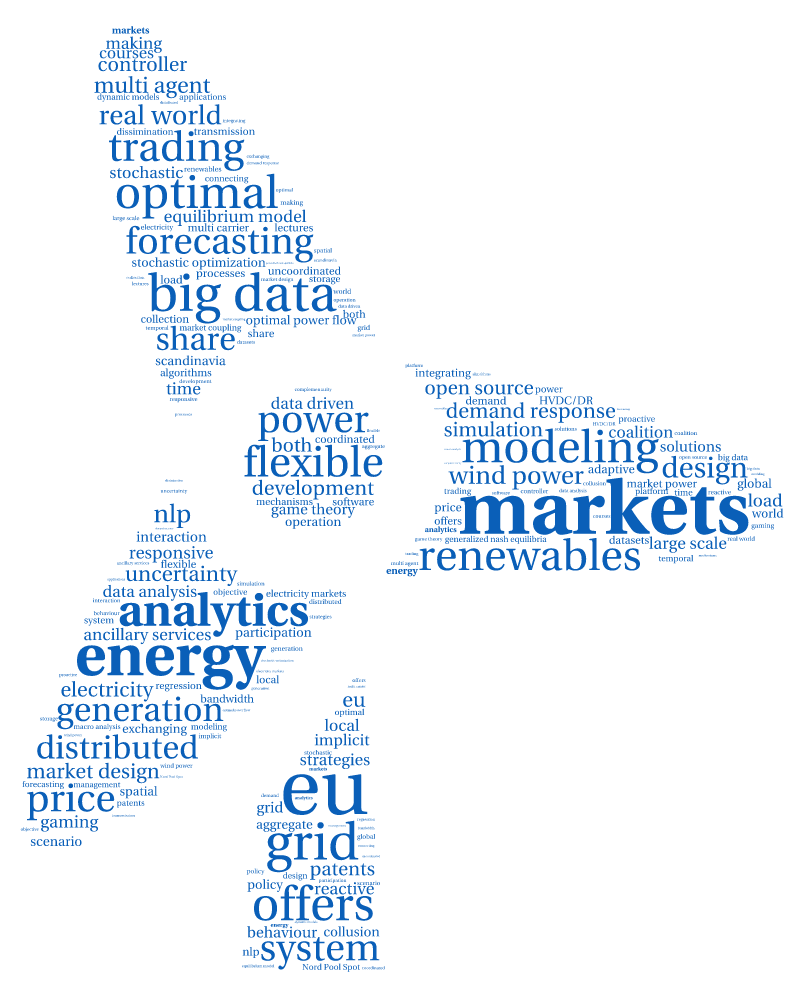 As of 2014, The Energy Analytics & Markets (abbreviated ELMA, do not ask why…) group comprises one of the 5 research groups at the Center for Electric Power and Energy (CEE) of the Department of Electrical Engineering (DTU Elektro) of the Technical University of Denmark. The main aim of this group is to support research, consultancy and education activities of CEE (and DTU more generally) involving advanced modelling and optimization problems in energy systems operations and markets. Its staff includes:
Faculty: 1 Professor and 2 Assistant/Associate Professor
Post-doctoral fellows: 3
Ph.D. students: 7
Research Assistant: 3
Besides these, faculty members also co-supervise 5 Ph.D. students based in other DTU departments (DTU Compute), or other universities (University of Copenhagen, University of Bonn – DWD). The ELMA group regularly hosts Ph.D. students and academics from universities outside of Denmark, e.g., Johns Hopkins (US), Strathclyde (UK), Tsinghua (China), University of Mons (Belgium), Ecole Normale Superieure (France), University of Padova (Italy), University of Castilla La Mancha (Spain), etc. The group will certainly expand with 1-2 Assistant Professors in the coming few years, as well as additional post-doctoral fellows and Ph.D. students. So do not hesitate to contact me if you are looking for a position in an exciting research environment!
Ambition for the Energy Analytics & Markets group
The Energy Analytics & Markets group was recently formed at DTU Elektro as part of CEE. After a start-up process of one year, the group members have formulated the ambition to
reflect the multidisciplinary nature of the research problems involved, by having members with varied backgrounds (e.g., electrical engineering, mathematics and statistics, optimization, etc.)
have a high impact in terms of scientific publications, projects and general outreach, but also more generally on society
provide substantial contribution to education and supervision of students
have a large and strong network (alumni, sponsors, collaborators and friends) worldwide, but also locally
promote collaborations with relevant groups in top universities, and therefore attract guests for short and long stays (PhD and higher level)
Research vision
The Energy Analytics & Markets group is part of a leading University when it comes to research and education related to energy systems and integration of renewable energy sources. Consequently, its research vision is to support this large scale integration of renewables in a liberalized market environment by proving the set of methods and tools to
fully appraise, model and predict the effects of renewables on power system operations and electricity markets
bridge the gap between relevant expertise in power systems engineering, data mining and optimization, meteorology, as well as energy economics
adapt market design and operational practice to the characteristics of renewable energy generation and new patterns in energy consumption, also yielding a sound environment for future investment
support planning of future energy systems in that same context
provide a sound framework for economic energy system integration
Research topics (more specifically)
Based on this overall research vision, a number of specific research areas of strategic importance were identified. These include:
Energy analytics
Under "Energy Analytics" is considered the wealth of methods to be employed for modelling and forecasting in energy systems, for all relevant quantities (i.e., renewable energy generation, consumption, prices, for electricity and gas), but also for optimal decision-making in a liberalized market environment. Some example research topics include:
Probabilistic forecasting of renewable energy generation (wind and solar), load and prices
Modelling and forecasting of transmission capacity (line ratings) and power flows on large networks
Simulation of energy generation and consumption stochastics at various spatio-temporal scales
Design of offering strategies in electricity markets (possibly combining markets in space and in time)
Reliability analysis of evolving energy systems
Forecasting and pricing for demand response
(Big) Data mining of increasingly available amount of power and meteorological data
etc.
Example results: R libraries for modelling and forecasting, complemented by open-source datasets.
Systems and Markets
Under "Systems and Markets" is considered the development of new systems and market models permitting to better simulate and integrate renewable energy generation and new patterns in energy consumption, also reflecting new power system equipments and operational practice:
New market designs for variable and uncertain generation and consumption, e.g., approaches to market clearing, new market products, etc.
Hierarchical market structures from transmission to distribution, considering new needs for DSO markets for instances
Large-scale (stochastic) optimization on networks
Market and system operator coordination, e.g., for balancing markets, in a smart grid environment, etc.
Design and operations of markets with new equipments like HVDC links
Example results: System and market models (similar to WILMAR) to be distributed open-source and possibly used for education and consulting activities
Outreach
As part of our plan to "communicate with the outside world" in order to share our ideas and results, we have elaborated an outreach plan consisting of the following key points:
Develop, and advertise datasets, learning tools and frameworks for demonstrating research
Regularly participate in a number of strategically chosen conferences
Combination of scientific, industry-focused and broad-audience dissemination
Contribute to developing online lecturing material (e.g., MOOC)
Support the development of websites for the individual group members
Aim at disseminating open-access versions of the group publications
Do not hesitate to have a look at the ELMA group members. A nearly up-to-date presentation of the group and its activities (well, a very limited selection) is available here, in pdf format.
You may also find here information on some of the former students who interacted with the group…
News and updates
My links